Holiday Alternatives in the City
Sep. 6, 2018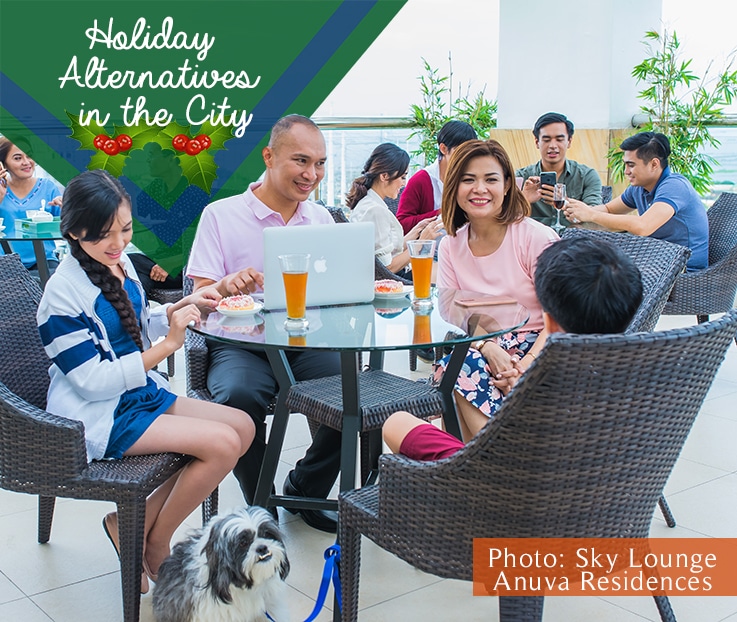 They say that in the Philippines there are only two seasons – wet and dry. We say there are three- the Wet season, the Dry season and the Holiday season. Okay so its not really a weather phenomenon but let's face it, the Philippines has a different climate when you finally see "-Ber" showing on your calendar. The feeling of jolliness or loneliness is magnified and we put particularly put important detail on how we spend the last few weeks of the year.
Here are some Holiday suggestions you may want to consider if you are looking for something creative or you just want to try something new with the family.
1. Staycation
Nothing beats family get together on Christmas eve in your grandparents' ancestral home. But with the traffic jam getting heavier and heavier by the year, you would probably spend more time on the streets and less at home. Next time you plan the holidays with your family, why not suggest a fuzz free alternative. There are hotels within your area who offer Staycation packages for the family inclusive of buffet breakfast for the morning after. Choose a location that is accessible for everyone so that you all can meet "half way". You can also book an overnight stay in a "B and B" for usually half the price.
2. CondoCation
Yes this is a term now! Condo-Living has created a niche for smart living in the concrete jungle and frankly why not? Try the condocation experience if you don't feel like driving through the whole city jam but you think you would be doing some last minute Holiday shopping, or would be visiting amusement parks and city attractions with the family. Spend the night with the family in a unit you can rent for a fraction of a hotel room cost. Want to save more? Why not own your own unit and use it as a Holiday home or a halfway house. You not only save on hotel charges, you can also earn on rental too.
There are Ready for occupancy (RFO) condos near BGC, Alabang and Makati that can get you moved-in in as fast as 3 days, you can even use your Pagibig too. That should get you ready for this year's Holiday rush. Ask a professional now on how you can have your own Holiday home this 2018.
---
---
3. Glamping
If you haven't heard about Glamping in the City then you are in for a treat. Glamping is a portmanteau of glamour (or glam) and camping. Let's face it, not everyone in the family can just pack their bags and hike, live in a tent and use nature for their bath. If you are interested to camp with the family but with style, look for nature resorts and wellness villages that offer glamping packages. There are even hotels within the city that offer overnight glampcation stay inside their premises. This is highly recommend for first time campers in case you are not sure of the "what-ifs" when camping outdoors.
4. Serviced Apartments
As children, we all loved the holidays, everything was prepared for us by our elderly folks. Growing up, we realized how painstaking it is to prepare for everyone in the family, not to mention the clean-up when everyone has left. There are apartments nowadays who offer not only adjacent suite rooms that can accommodate a big family but also provisions for cooking and eating-and they would do the clean up for you. If this is your turn to host a family get together, why not consider this as an option this holiday season. Not only will your family enjoy the change of scenery, but you get to enjoy the time with them too.
Looking for a great RFO Condo in Muntinlupa? with Pag-ibig fund? Talk to Us Today