Easy Home Styling with Anuva Residences' Junior One Bedroom Unit
Jan. 26, 2016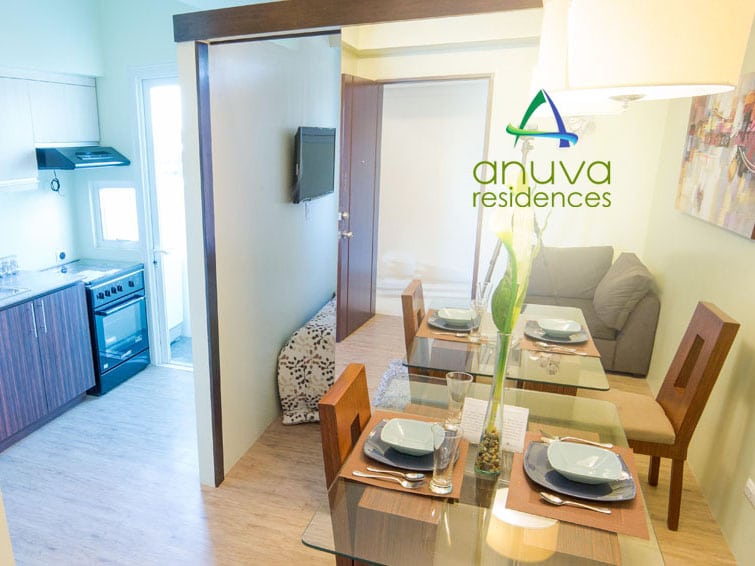 Singles seeking to live in an affordable condominium should consider choosing a square junior one bedroom unit instead of the usual elongated one. Aside from the roomy and comfy feel, a square junior one bedroom unit gives an occupant more leeway in designing a small home according to his or her preference. This can be shown in the junior one bedroom unit of Anuva, an 8-building residential condominium community development of SOC Land Development Corp. near Sucat Interchange in Muntinlupa City.
While it takes the some imagination and creativity to design the interior of differently sized condo homes, the task is challenging for a one bedroom unit that is elongated. Such configuration limits arrangements of furniture and decors. However, in the Anuva junior one bedroom unit model, the homeowner can make it as hip as he or she wants it to be whether the design is minimalist, elegant, country or industrial.
There is more than one position option for the sofa bed and the dining nook can even accommodate a table with four chairs. A mini bar can add character to the kitchen if not a working space for the cooking aficionado. A photography enthusiast can display his shots on the wall or a bookwork can put customized shelves to showcase his favorite hard covers and paperbacks. The window can be accentuated with thick or light curtain or the living area with a rug and center table. Mood lights can give a relaxing ambience. For a student or professional, the TV nook can be a work station. The junior one bedroom unit's laundry area can be an alternative stargazing corner just by putting an astronomical telescope there. Foldable dividers with designs can also make the room more eye-catching.
Surely, the Anuva homeowner won't feel constricted in the square home. That feeling is even enhanced by the low-density buildings and 80 percent open space in the 2.4-hectare development site along East Service Road in Muntinlupa.
The residence location provides easy and quick access to Makati, Bonifacio Global City in Taguig and the Calabarzon area via the South Luzon Expressway. Through the highway and the service road, residents can easily drive to the airport, shopping centers, business districts and entertainment spots.