7 Money Saving Facts About Condo Living
Aug. 13, 2018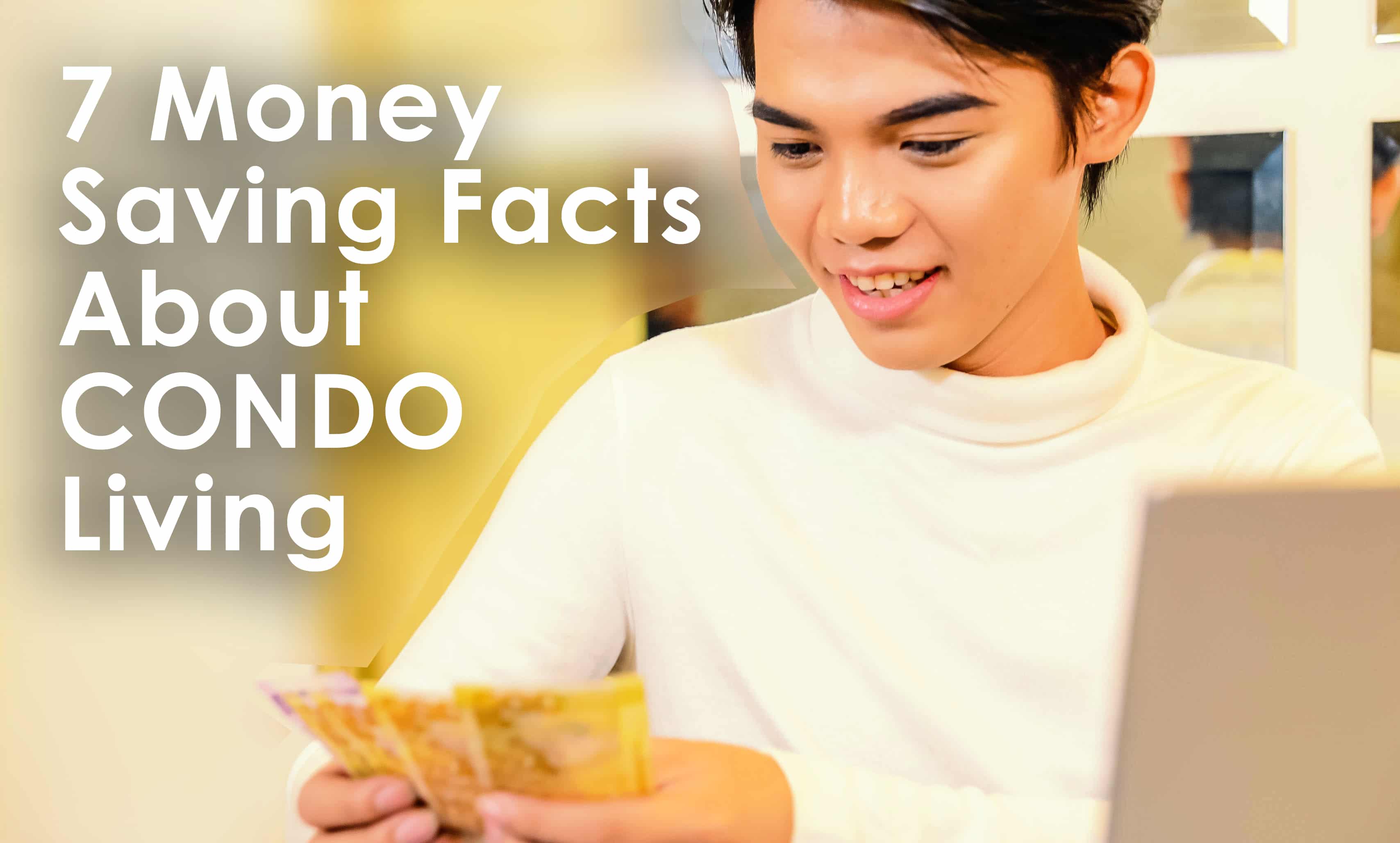 uying a starter house and lot may seem more affordable than buying a Condo when you compare the price per square meter of these 2 properties. More than the cost of the actual property, we also must consider the long-term costs and benefits of owning one before deciding on which starter home you should purchase.
In this article, we mention six things you benefit from owning and living in your own Condo.
Condos are Easy to Maintain
For condo-dwellers, this is one of the biggest advantage they have over landed property dwellers. Even the busiest ones do not even need a full time house help. The wear and tare of your property can start to show in as early as 2 years too. Minor plumbing fixes, fading of your exterior, roofing issues during rainy season, not to mention the landscape of your outdoor veranda or garden are some of the maintenance issues you have to face when buying a house and lot. These are not a problem with condos since upkeep and maintenance (plus you literally have no roof to worry about) is being managed by your developer. If you are a busy full time worker or a mom racing crazy toddlers, these are the things you should consider to be top priority. This could take alot of time and budget and sometimes during unexpected situations.
Condo Living Saves You Time
If you have chosen to live in a condo, you probably notice how close it is to, well-almost everything. If you get a condo from a good developer, they always think about your CONVENIENCE. You wont have to drive out or commute to the village guard house before accessing a main thoroughfare (not to mention wait for the shuttle schedule or the ever inconvenient village tricycle). Condos that are strategically located allows you access near supermarkets, malls, hospitals, churches or even schools with just a short walk, a drive or even a bike ride away. Having this convenience allows you to save a valuable resource we often take for granted-TIME.
Condo Dwellers are more Fuel-Efficient
If you have your own car, then you probably notice how impractical it is to use one nowadays with the prices of gasoline soaring higher and traffic in the city getting heavier. Living in a condo where everything is accesible saves you hundreds if not thousands of pesos a week just on gas money. Plus, allowing you the convenience to walk, or bike short distances, you get to save on not just gasoline but also vehicle maintenance. Adapting a condo lifestyle allows you to consider more efficient ways to use your car.
---
---
Better Vacation Budget
One of the best things about owning a condo is your access to the country-club amenities of its development without paying extra. Developments in the City that offer projects close to nature with scenic jogging paths, garden scenery, view of the bay not to mention relaxing amenities like lap pools, children's pool and Sky Lounge are much sought after by condo buyers. Having access to all these and more, you get to save not just money on renting expensive Villas or staycation rooms but also travel time. This means you have more time to relax and have a real vacation right at the comfort of your own home.
Spend Less on Night-out Expenses
Consider having a home cooked meal for dinner with a few friends or having a potluck party with some mates on your birthday now that you have a Condo of your own. Aside from it being more intimate, it allows you to save on night-out expenses not just on food and liquor but also on transportation. Having a small get-together with friends in the safety of your own condo, you wont have to worry anymore about your ride home. You want to change up the scenery? Consider buying a condo with common areas to entertain your guests like Anuva Residences' Sky Lounge which boasts of the scenic city skyline and the serene view of the bay.
Save you Trips to the Doctor
You get to save more time and money when you live in a Condo which allows you to now spend it on things that matter most. Having to get rid of some of the stresses that the convenience of living in a condo has now given you, you get to focus on you and your family's well-being. You get to spend more time with them instead of getting stuck in traffic. You get to spend more time with nature even in the city, which is very good for your health. You get to have better food choices in your food sources and even dine-out options. You get to experience new hobbies you have been meaning to try but did not have the time, money or energy to do so before. You get to live a healthier life adapting to the condo lifestyle which can save alot of doctor's visits.
You can Save on Monthly Rent
Lastly and most obviously, rent! If this is the first time you ever tried to live away from your folks then it may be a bit scary just to even imagine buying your own place for the first time. Most of us would probably just result to renting until we have enough money to buy our own property. Although it may seem that this is a more cost effective and money saving tip, consider the equity of your property in the long run. As you rent, the only person getting rich is, you're right- your landlord. As a renter, the only thing that increases on your side are expenses. If you live in your own condo, the value of the property increases over time, which means your personal equity also increases.
There are Condos for sale right now that allows you to live in it while still making your monthly installments just like Anuva Residences along East Service Road in Muntinlupa. This scheme is commonly known as rent-to-own and if you are still nervous about making that big purchase, maybe a scheme like this can work for you.
At the end of the day, it's good to make your proper research and talk to experts about it.
—–
Looking for a great RFO Condo in Muntinlupa?  with Pag-ibig fund? Talk to Us Today